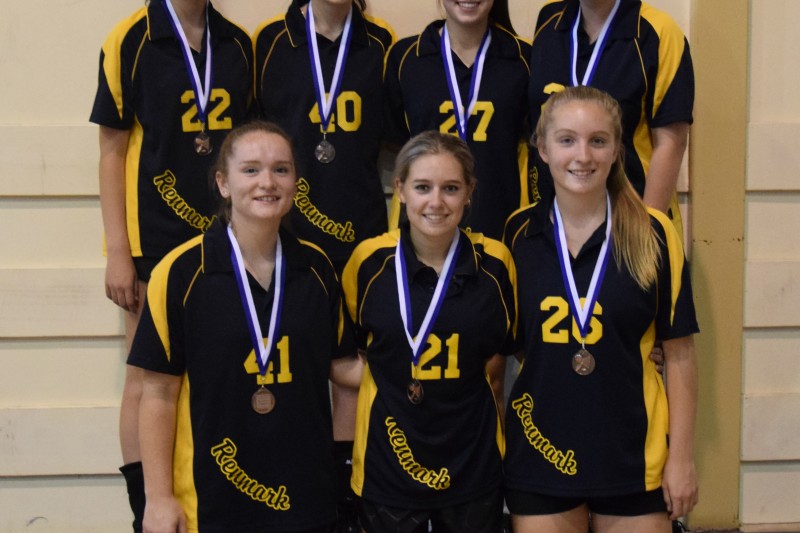 On Saturday 17th and Sunday 18th November the Riverland Volleyball Association hosted the Riverland Open Volleyball Carnival. Seventeen teams travelled from all over the state including Adelaide, Port Pirie, and Port Augusta. Teams were divided into 4 divisions with the Riverland fielding a men and women's team in Division 2. Mt Lofty, which is composed of mainly Heathfield players, used this tournament as a warm up for the upcoming National Schools Cup event held in Melbourne in early December. It was also exciting to welcome a relatively new Volleyball Club from Adelaide; Central Ghan. They fielded teams in all four divisions.
Games were played throughout Saturday and Sunday and all teams thoroughly enjoyed their stay in Renmark. The competition was very even in every pool and most matches were very close.
In the Division 2 women Competition Riverland were the eventual winners winning or drawing all games played and then playing a close final against Port Pirie. It was great to see former Renmark Volleyball player Jacquie Howarth return with her side. They were also very undermanned playing with 5 players after a major injury to one of their players.
In the Division 2 men Riverland again went through undefeated and then played Port Augusta Heat in the final. The grand final was closer than the pool match with Port Augusta taking a set from Riverland and forcing the game into an extra set. However Riverland with the hitting power of Andrew Webb, Clayton Bond and Isaac Kolcas proved the difference.
In the Open Women's Competition of five teams the results were very close with teams taking sets off each other all weekend. Crucial injuries to the Henley Hawks players saw them reduced to just 6 with another former Renmark Player having to change uniform and come from being a Libero to a whole court player. She did not disappoint but the Northern Knights just scrambled better in tough rallies and finished off as the Bronze medalists with a 2-1 win. The Grand final was between both Mt.Lofty (Heathfield teams), which made for a very entertaining match. The coaches especially Stuart Scott , were busy taking many notes and statistics to try and gain the upper hand. In the end Heathfield 2 won 2 sets to 1.
Finally in the Open Men' s competition the Heathfield boy's team played well in patches against some much more mature teams. The Northern knights finished with a Bronze after losing a tight game to Central Ghan in the cross over semi 2 sets to 1. The Grand final match between the Norwood Bears League club and the Central Ghan side was very entertaining with many great saves and power hits. Even with an injury in the Bears club reducing them to 6 men they prevailed over the threatening Central Ghan with a 3 sets to 1 win.
Thanks must go to all the supporters and players who travelled and to Volleyball SA for their support in getting this carnival back up and running after a long hiatus. The Committee is looking forward to future tournaments of this type.
Final Tables
Open men
Norwood Bears 1st
Central Ghan 2nd
Northern Knights 3rd
Heathfield 4th
Open Women
Heathfield 2 -1st
Heathfield 1 -2nd
Northern Knights -3rd
Henley hawks -4th
Central Ghan -5th
Division 2 Men
Riverland -1st
Port Augusta Heat-2nd
Central Ghan -3rd
Port Pirie-4th
Division 2 Women
Riverland -1st
Port Pirie -2nd
Port Augusta heat -3rd
Central Ghan -4th